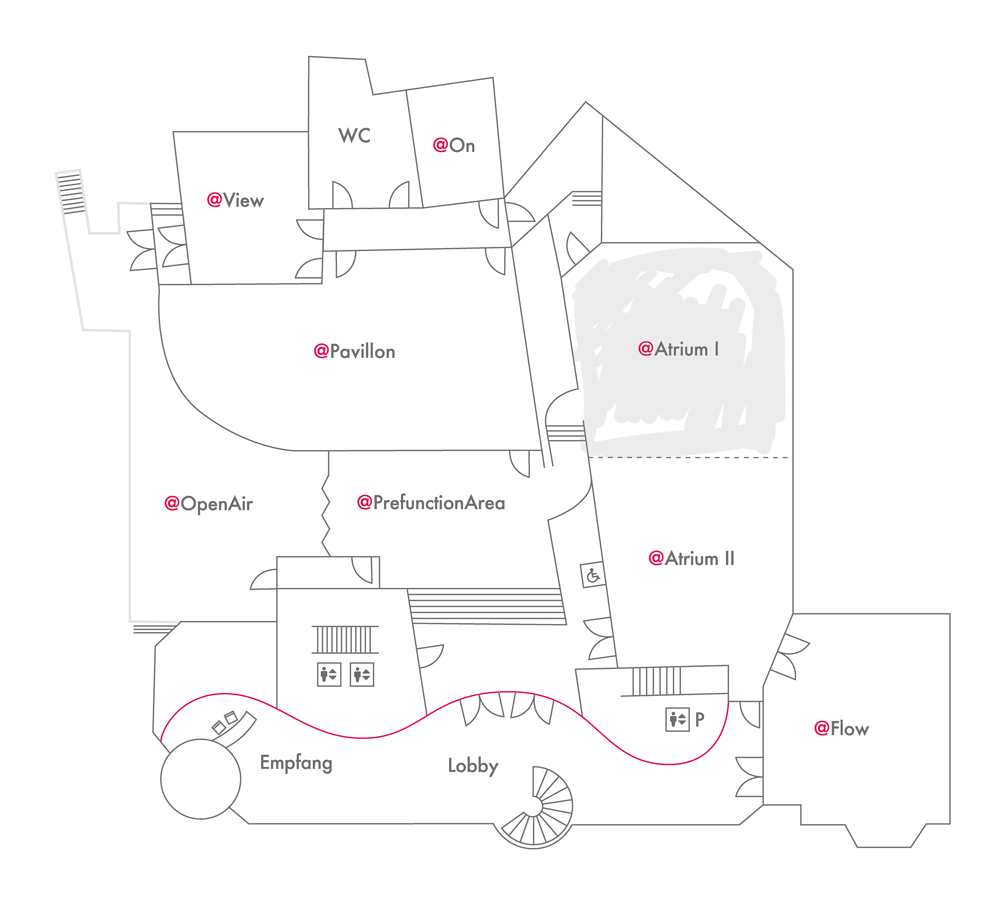 @Atrium offers an ideal setting for large lecture events, training courses, presentations or roadshows. The spacious event room with 285 sqm can be used with a maximum of 226 people. The area can be divided into two separately usable rooms – even in the course of a day event.
The room has pleasant daylight through the ceiling construction. Additionally @Atrium can be equipped with different
Lighting scenarios can be illuminated. The modern furniture was manufactured exclusively for tHeo.2.meet in Germany. Materials and shapes were chosen to create an immediate sense of well-being.
The indoor climate is controlled by a modern ventilation system. Special emphasis was placed on the room acoustic environmental quality. High-quality carpeting and the walls equipped with light wood panels create perfect room acoustics and a feel-good atmosphere.
Of course, @Atrium is also equipped with the latest conference technology, e.g. high-speed WiFi with priority access for speakers. The FullHD presentation technology can be controlled wirelessly. A high-end sound system including headset/micro is also part of the room equipment. @Atrium is equipped with a height-adjustable lectern with integrated microphone. Classic presentation equipment such as flipchart, metaplan wall, presenter's case etc. is available on site.
You can use our largest space in very different ways. You will find here exemplary seating variants that serve as orientation. You can also use @Atrium optimally for e.g. a roadshow or an (in-house) trade fair. Or how about a long table? Feel free to contact us about the requirements for your event.
@Atrium can be divided into two independently usable rooms, see @Atrium I+II.
Parliament: 170 PAX
Series: 226 PAX
Block: 138 PAX
U-Form: 80 PAX
Standing reception: 180 PAX
Round tables: 110 PAX
Seating options @Atrium I
Sie können die Räume in unterschiedlichen Bestuhlungen für Ihre Veranstaltung nutzen, z.B. für einen Empfang in @Atrium II und anschließendem Vortrag in @Atrium I.
Parliament: 72 PAX
Series: 120 PAX
Block: 72 PAX
U-Form: 38 PAX
Standing reception: 85 PAX
Round tables: 60 PAX
Seating options @Atrium II
This room has a direct access to @Flow. You can therefore plan the rooms very well into your event schedule.
Parliament: 58 PAX
Series: 106 PAX
Block: 66 PAX
U-Form: 36 PAX
Standing reception: 75 PAX
Round tables: 50 PAX